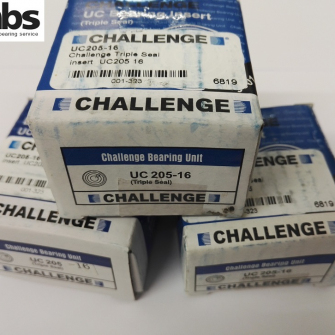 UC205-16 1" bore (Job Lot x10) £4.50 Each Triple Sealed Boxed Challenge Bearings
UC205-16 1" bore (Job Lot x10) £4.50 Each Triple Sealed Boxed Challenge Bearings
5 In stock
Product Description
Job Lot of x10 Triple Sealed Boxed Challenge Bearing Inserts.

Works out to only £4.50 Each!

Part Number: UC205-16
Brand: Challenge.

ID: 1"
OD: 52mm
W: 34mm (overall width)
W: 17mm (Outer Race Width)

Includes 2 x Grub screws for locking on to the shaft.
And a groove and hole in the outer race for relubrication.

Free Hemes delivery.

We are a trusted UK bearing supplier and have been trading from our Brick & Mortar shop since 1965.

Any questions or advice just contact us.