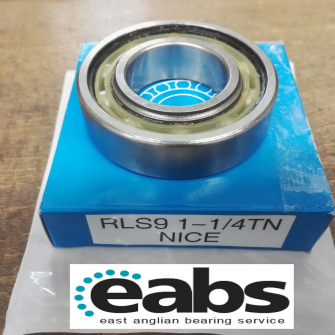 RLS9-1-1/4 Z NICE BRANDED BEARING 1-1/4x2-1/2x5/8 inch TRIUMPH 1602DC - 1654DS
RLS9-1-1/4 Z NICE BRANDED BEARING 1-1/4x2-1/2x5/8 inch TRIUMPH 1602DC - 1654DS
Product Description
RLS9-1-1/4Z (SINGLE SIDED METAL SEAL) Special Bore Imperial Shielded Deep Groove Ball Bearing 1-1/4x2-1/2x5/8 inch

Imperial Metal Shielded Deep Groove Ball Bearings: One of the most commonly used bearings, these types are manufactured with metal shields inserted into the outer raceway, these fit in closely to the inner race providing protection against light mechanical damage, some protection against the ingress of moisture, dust and other foreign matter and serve to retain the pre-filled grease in the bearing. Manufactured to inch sizes to meet the requirements of many older British machines and many current American manufactured applications.
SINGLE Shield for applications that only require 1 shield
Provides light mechanical protection, limits moisture and dirt ingress, lubricated for life

Inside Diameter: 31.75mm = 1-1/4 inch
Outside Diameter: 63.50mm = 2-1/2 inch
Width: 15.88mm = 5/8 inch
Shield: Metal Shield
Clearance: Standard

Equivalent to: 1654DC TNTG08 FBC3891 NICE1654 DCTNTG08

We are a trusted UK bearing supplier and have been trading from our Brick & Mortar shop since 1965.

Any questions or advice just contact us.