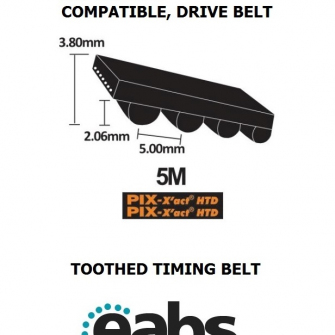 BELLE CEMENT MIXER 900-99915-2 TOOTHED DRIVE BELT
BELLE Cement Mixer Toothed Timing Belt (Drive Belt) REPLACEMENT BELT FOR OEM PART NUMBER: 900-99915 (990-99915-2) (90099915)
Product Description
BELLE Cement Mixer Toothed Timing Belt (Drive Belt)

REPLACEMENT BELT FOR OEM PART NUMBER: 900-99915 (990-99915-2) (90099915)

FITS: MiniMix 150, 110V, 240V, Honda G100, GX120, + Others.

This belt it compatible with mixers that have a timing pulley, were the teeth on the belt mesh up with the notches on the pulley it's self,
Please see our other listings for mixers that use a V Belt.

Belt Specs:

Length: suitable for 535mm and 540mm machines.

Pitch: 5M = 5mm when measuring from the centre of one tooth to the next.

Width: 9mm

BRAND: PIX - Torque Plus XT2 (Global Aftermarket and OEM Parts Manufacturer)

Please see our Ebay shop for more bearings, belts, oil seals and other Belle parts

We are a trusted UK bearing supplier and have been trading from our Brick & Mortar shop since 1965.

Any questions or advice just contact us.