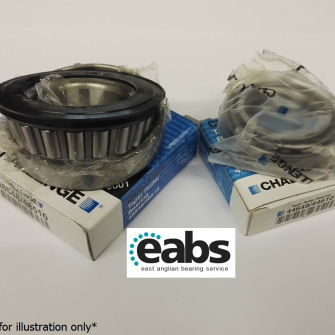 Trailer Wheel Bearing Hub Set 67048L/10 + 32004 (ALKO + Indespension 160mm)
1x Trailer Wheel Bearing Hub Set 67048L/10 + 32004 (ALKO + Indespension 160mm)
Product Description
1X Complete Trailer Wheel Bearing Hub Set
Enough Bearings for 1 Wheel/Hub.
Supplied with 1x Inner Bearing and 1X Outer bearing.
Fitment Very Common on ALKO and Indespension 160mm Trailer Hubs + multiple other makes.

LM67048L / 67010
Also Known as LM6700/10 LM6700L/10 LM6700LA/10, L67048L/67010, 67048L/64010, LM67048L/10, L67048L/10, 67048L/10
This Taper roller bearing comes fitted with an intergrated seal, and is used on the (INNER) hub.

DIMENSIONS
Inside Diameter: 31.75mm = 1-1/4"
Outside Diameter: 59.13mm = 2.328 inch
Width: 15.88mm = 5/8"
Cone Width: 16.7mm
Cup Width: 11.8mm

32004,
This bearing is fitted to the OUTER hub

DIMENSIONS
Inside Diameter: 20mm
Outside Diameter: 42mm
Width: 15mm
Cone Width: 15mm
Cup Width: 12mm

We are a trusted UK bearing supplier and have been trading from our Brick & Mortar shop since 1965.
Any questions or advice just contact us.